Loman is not only a hat manufacturer, it is also a specialized production of company gadgets. We cordially invite you to cooperate, which may result in the creation of unique products for you. They will make your brand more recognizable. How? We offer the possibility of creating any chosen gadget model, which we then mark according to the customer's wishes. It can be a company logo, company name, inscription, or any other type of branding indicated by our customers.

You can choose from a lot of gadgets from our collections. It is a wide range of diverse products that are perfect for company gadgets. However, if you do not find a product you invented among them, you can place a special order. However, it will be necessary to make an advance payment of EUR 50 for the future and non-standard order for which we need to create a separate computer program.
---
What other sevices can we offer
Loman is an experienced manufacturer of knitted goods
branding of winter hats and scarves available in our store. The price of the finished cap does not include the cost of sewing or attaching the marking selected by the customer.
attaching add-ons. It is possible to attach various accessories, such as flags, labels, pompoms, etc. to the scarves and hats you buy. However, it is necessary to send us a photo of such an add-on so that your needs are in line with reality.
embroidery on products. We make the embroidery in accordance with the pattern sent to us – most often in the form of a logo in JPG format and in the color and size provided by the customer. Before the final execution of the order, we send you a sample for your approval.
making pompoms and strings. On request, we also make strings and pompoms from yarn selected by customers. For this type of order, 30% advance payment is required. You pay the rest of the order after receiving the completed order. If you donate your own yarn, no advance payment is required.

If you want to order the production of your own models, please contact us as soon as possible. It takes time to develop patterns and produce them! Reach out: telephone: 33 812 62 94 (23) | Handel@loman.pl
---
Why choose our services?
Because thanks to them, both caps and gadgets acquire an individual character. It is a way to personalize products, thanks to which your brand will become recognizable. The high quality of our services also plays an important role, which guarantees your and our satisfaction.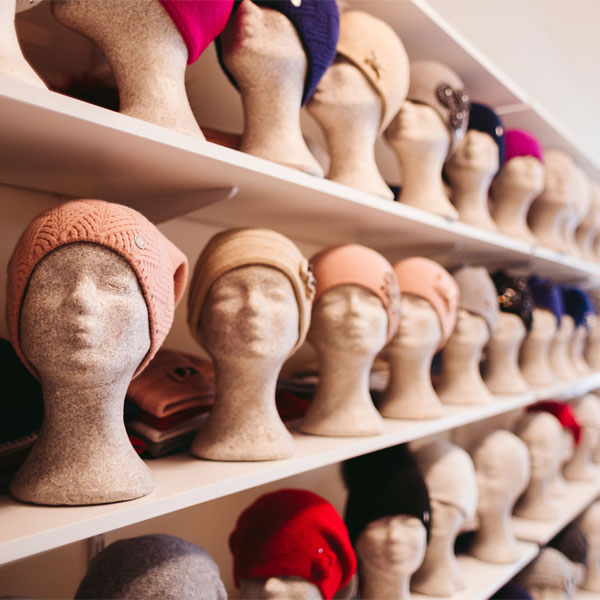 Are you looking for a Polish hat manufacturer? We will fulfill your every order | phone: 33 812 62 94 (23) Michalina Sierny michalina@loman.pl Mon – Fri 9.00 – 15.00